DESCRIPTION
DESCRIPTION
Description
Have you heard about black seed oil? Also known as black cumin seed and nigella sativa, it's been used for centuries—and it's benefits are finally becoming widely recognized in the Western world. Our organic, cold-pressed, 100% pure Black Seed Oil Liquid is packed with super antioxidants and a powerful omega 3-6-9 complex to help support a strong immune system, joint health, digestive comfort, cardiovascular health, and healthy hair, skin, and nails. Simply take one teaspoon daily for best results.
Check out the latest products from the brands you know and trust - from vitamins and supplements to protein and weight-management powders.
All Products
Free Delivery
Free Delivery over $160
Payment
Encrypted Secure Checkout
Support
24/7 Customer Service
Return
Easy Return Policy
MY BAG
Your shopping bag is empty.
MY WISHLIST
Your wishlist is empty.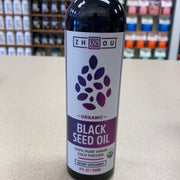 ZHOU Organic Black Seed Oil | 100% Virgin | Cold Pressed Omega 3 6 9 | Super antioxidant for Immune Support, Joints, Digestion, Hair & Skin | 8oz