DESCRIPTION
DESCRIPTION
The flavor starts as a Smokey black pepper flavor. Wicked's premium Cutz are the ideal savory snack to satisfy your hunger and fuel your workout, road trip, or a long day at work.
Check out the latest products from the brands you know and trust - from vitamins and supplements to protein and weight-management powders.
All Products
Free Delivery
Free Delivery over $160
Payment
Encrypted Secure Checkout
Support
24/7 Customer Service
Return
Easy Return Policy
MY BAG
Your shopping bag is empty.
MY WISHLIST
Your wishlist is empty.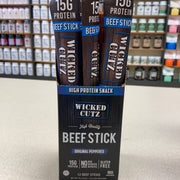 Wicked Cutz Original Pepper Beef Sticks