DESCRIPTION
DESCRIPTION
Description
Animal Flex is the foundational joint supplement trusted by strength athletes all over the world. Think of it as insurance for your joints. After all, how much can you dead lift or bench press with aches and pains in your joints?
Animal Flex has a Joint Construction Complex packed with Glucosamine and Chondroitin to help make sure your joints stay strong and healthy.
Animal Flex also has a Joint Lubrication Complex designed with Flaxseed Oil and Hyaluronic Acid to keep your joints hydrated and working smooth.
Animal Flex completes it's formula with a Joint Support Complex with Ginger Root, Turmeric Root (curcumin), and more to help keep your joints healing and healthy for years to come.
Take one pack of Animal Flex with any meal during the day, and you are good to go. Easy to take, and effective. Animal Flex is a building block in the foundational supplement stack for serious athletes all over the world. Complete joint health starts with just one pack a day. With 44 packs per container, you are covered for well over a month.
Features & details
Strong enough for bodybuilders and elite athletes that put push their body to the limit

Combines many stand alone supplements in one: Turmeric, Glucosamine, Chondroitin, Curcumin, MSM, Flaxseed Oil and more

Available in 44 convenient grab and go packs, or 30 scoop powers

Simply take 1 serving daily with any meal

Animal has been a trusted brand by professionals around the world for over 30 years
Check out the latest products from the brands you know and trust - from vitamins and supplements to protein and weight-management powders.
All Products
Free Delivery
Free Delivery over $160
Payment
Encrypted Secure Checkout
Support
24/7 Customer Service
Return
Easy Return Policy
MY BAG
Your shopping bag is empty.
MY WISHLIST
Your wishlist is empty.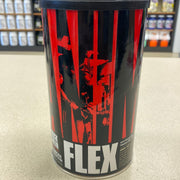 Universal Nutrition Animal Flex 44 Packs