DESCRIPTION
DESCRIPTION
Features & details
Clinically Dosed Focus And Energy: If your ingredients aren't max-dosed, they might as well not even be in your pre-workout. We didn't skimp on cost, so you have a full dose of every ingredient in our products. That means a better results.

5 Pillars Of A Perfect Workout: We set our own standards of what a preworkout should be and worked to assure we delivered. That means 1) Powerful energy with no crash, 2) Strength and endurance, 3) Long lasting pump, 4) Optimizing performance, and 5) Enhanced absorption.

Pump + Pre, All In One: Most companies sell you a preworkout and pump as two products. Instead, we dosed this preworkout with a full pump product of S7, Nitrosigine, and Citrulline.

Advanced Absorption: If you can't absorb the product, what good is it? We max out absorption with BioPerine and AstraGin, two extensively researched patented ingredients that enhance nutrient absorption.

Great Taste: We made sure it's actually a product you want to take! Always the best, creative flavors from Alpha Lion.
Check out the latest products from the brands you know and trust - from vitamins and supplements to protein and weight-management powders.
All Products
Free Delivery
Free Delivery over $160
Payment
Encrypted Secure Checkout
Support
24/7 Customer Service
Return
Easy Return Policy
MY BAG
Your shopping bag is empty.
MY WISHLIST
Your wishlist is empty.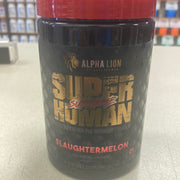 Super Human Supreme SlaughterMelon Pre-Workout