DESCRIPTION
DESCRIPTION
About This Product
Double Tap - Orange Crush
Double Tap Fat
The Objective: Body fat literally melts off while dramatically improving energy even in a caloric deficit. Brain fog and mental clarity are profoundly increased.
Directions
Caution - Double Tap is an extremely potent fat burning and energy formula. Assess your tolerance by taking () scoop upon waking on an empty stomach. Once tolerance has been assessed, take an additional () scoop 4-6 hours after your first serving. Do not exceed more than (1 ) per day.
Warning
WARNING: KEEP OUT OF THE REACH OF CHILDREN. This product is intended to be consumed by healthy adults 18 years of age or older. Before using this product, seek advice from your pharmacist or physician. Avoid using this product if you have if you have any pre-existing medical condition including but not limited to: high or low blood pressure, cardiac arrhythmia, stroke, heart, liver or kidney disease, seizure disorder, thyroid disease, psychiatric disease, diabetes, difficulty urinating due to prostate enlargement or if you are taking MAO Inhibitor or any other medication or supplements. Do not use if you are pregnant or nursing, prone to dehydration or exposed to excessive heat. Discontinue use and consult your healthcare professional.
Check out the latest products from the brands you know and trust - from vitamins and supplements to protein and weight-management powders.
All Products
Free Delivery
Free Delivery over $160
Payment
Encrypted Secure Checkout
Support
24/7 Customer Service
Return
Easy Return Policy
MY BAG
Your shopping bag is empty.
MY WISHLIST
Your wishlist is empty.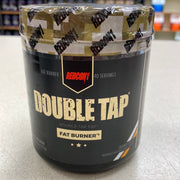 Redcon1 Double Tap Fat Burner Orange Crush