DESCRIPTION
DESCRIPTION
Product description
Puriclean Instant DUO is 20x more powerful than any regular detox. It contains all-natural ingredients that work to help cleanse your body, boost your immune system, and keep you refreshed and revitalized.
This body detox is a natural and effective solution to cleanse your body, eliminate impurities, achieve maximum strength, and boost energy. It is safe for everyday consumption and can be used by anyone wanting to support their overall health.
For a painless, effective, and safe way to receive the nutrients, your body needs to reboot. Look no further than this natural body detox powder. This product consists of gentle and clean ingredients, so you feel good about using it without experiencing any side effects.
Features & details
Made in USA-GMP Certified Labs-Products Guaranteed

Be confident-Puriclean Max DUO is scientifically formulated with our proprietary Chlorosyllic Blend to be up to 20X Stronger and Works faster than any other pre-mixed Liquid or Capsule. Quick Flush Cleanser.

With our Instant Max DUO delivery system, your body gets the full cleansing strength the second it enters your system.

Delicious Flavor- Taste like juice or vitamin water. Yum! Makes for easy intake. Yum!

Make the Right Choice and pick Puriclean Instant Max Cleanser DUO! The strongest and fastest Quick Flush cleanser available on the market today!
Check out the latest products from the brands you know and trust - from vitamins and supplements to protein and weight-management powders.
All Products
Free Delivery
Free Delivery over $160
Payment
Encrypted Secure Checkout
Support
24/7 Customer Service
Return
Easy Return Policy
MY BAG
Your shopping bag is empty.
MY WISHLIST
Your wishlist is empty.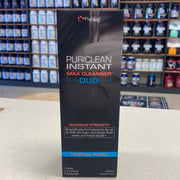 PuriClean Instant Max Cleanser Duo Tropical Punch