DESCRIPTION
DESCRIPTION
In typical PEScience fashion, we have delivered a formula that goes above and beyond. Each 2-scoop serving of Prolific contains 6 grams of L-Citrulline, the citrulline equivalence of 12 grams citrulline malate. 6 grams is far above the competition...so pump and endurance know no boundaries with Prolific.
We have a novel blend of caffeine using both caffeine anhydrous and Infinergy (dicaffeine malate), coupled with theanine for explosive energy with no jitters.
We have also left out all of the mundane ingredients you find in traditional copycat pre-workouts all over the market today, like creatine and beta-alanine. It still blows our minds that these ingredients are used in pre-workouts, considering all of their scientific data is based on daily use over time, not an acute effect after one dose. Unfortunately just because your skin is tingling doesn't mean your workout will be better.
Check out the latest products from the brands you know and trust - from vitamins and supplements to protein and weight-management powders.
All Products
Free Delivery
Free Delivery over $160
Payment
Encrypted Secure Checkout
Support
24/7 Customer Service
Return
Easy Return Policy
MY BAG
Your shopping bag is empty.
MY WISHLIST
Your wishlist is empty.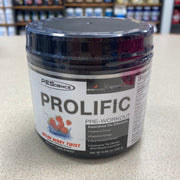 PESience Prolific Melon Berry Twist