DESCRIPTION
DESCRIPTION
Description
Amino Energy Juice Strawberry Burst can be used anytime for Essential Amino Acid Delivery, Nitric Oxide Production, Muscle Recovery Acceleration, Improved Energy and Focus. Free Form Amino Acids for Rapid Uptake. Essential Amino Acids including BCAAs. Supports Recovery Before, During & After Exercise. Train Longer & Harder with beta-Alanine. Natural Energizers & Antioxidants. Supports Nitric Oxide Synthesis. Do not exceed 6 scoops within any 4 hour or 10 scoops with any 24 hour period.
Check out the latest products from the brands you know and trust - from vitamins and supplements to protein and weight-management powders.
All Products
Free Delivery
Free Delivery over $160
Payment
Encrypted Secure Checkout
Support
24/7 Customer Service
Return
Easy Return Policy
MY BAG
Your shopping bag is empty.
MY WISHLIST
Your wishlist is empty.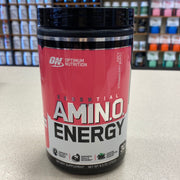 Optimum Nutrition Amino Energy - Pre Workout with Green Tea, BCAA, Amino Acids, Keto Friendly, Green Coffee Extract, Energy Powder - Juicy Strawberry Burst, 30 Servings