DESCRIPTION
DESCRIPTION
Description
Go further, longer with Liquid L-Carnitine 3000 Passion Berry from Nutrakey. Nutrakey believes the best way to Make Life Better is through wellness, health and happiness. With their clean products, with no artificial color or dyes, they look to always provide the most high quality products on the market at a great price. Nutrakey loves watching their customers succeed and grow, and love to hear success stories. They consider their costumers as "partners" in business.
Check out the latest products from the brands you know and trust - from vitamins and supplements to protein and weight-management powders.
All Products
Free Delivery
Free Delivery over $160
Payment
Encrypted Secure Checkout
Support
24/7 Customer Service
Return
Easy Return Policy
MY BAG
Your shopping bag is empty.
MY WISHLIST
Your wishlist is empty.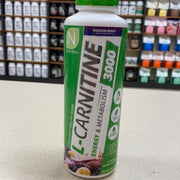 Nutrakey Liquid L-Carnitine Passion Berry 16oz