DESCRIPTION
DESCRIPTION
Super Carb - Performance & Recovery Carb Fuel
NutraBio SuperCarb is an innovative product, suitable for both men and women, designed to fuel performance through the use of the patented carbohydrate powder Cluster Dextrin. Unlike typical carbs such as dextrose or fructose, Cluster Dextrin is a low glycemic, highly branched cyclic dextrin (HBCD) with a high molecular weight and ultra-low osmolality. These properties of HBCD make it highly soluble and promote fast gastric emptying, virtually eliminating the gastric distress often associated with less advanced carbohydrates. Cluster Dextrin also maintains a slow release, offering the ideal interaction between carbohydrate breakdown and the normal release of free fatty acids. The result is a superior carbohydrate that delivers smooth, constant energy and replenishes muscle glycogen stores without spiking blood sugar levels.

By itself, SuperCarb is an ideal fuel source and a better alternative to sugar-laden sports beverages that can cause bloating, sloshing, sugar crashes, and other stomach-related issues. Furthermore, SuperCarb includes a cleverly crafted electrolyte blend designed using Albion Lab's premier mineral complexes as electrolyte donors. These help ensure efficient muscle contractions while eliminating the potential for cramping due to dehydration from training hard. SuperCarb can also be added to any pre-, intra-, or post-workout product when sustained energy is needed for long, intense workouts or to help restore depleted muscle glycogen.

Supplement Details:
- 25g Cyclic Dextrin
- 822mg Electrolytes
- Zero Fillers, Maltodextrine, Dextrose, or Additives
- Ultra-Low Osmolarity
Suggested Use: Based on your performance needs, mix 1 to 2 scoops of Super Carb into 12-16 oz. of water. Shake well for 30-45 seconds. Consume before, during, or after intense exercise as needed for added energy. Increase your dosage if engaging in prolonged exertion for 2 hours or more.
Check out the latest products from the brands you know and trust - from vitamins and supplements to protein and weight-management powders.
All Products
Free Delivery
Free Delivery over $160
Payment
Encrypted Secure Checkout
Support
24/7 Customer Service
Return
Easy Return Policy
MY BAG
Your shopping bag is empty.
MY WISHLIST
Your wishlist is empty.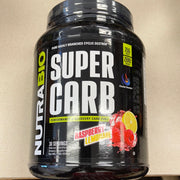 NutraBio Super Carb - Complex Carbohydrate Supplement Powder - Cluster Dextrin and Electrolytes for Performance Enhancement & Muscle Recovery - Raspberry Lemonade, 30 Servings