DESCRIPTION
DESCRIPTION
BENEFITS OF NUTRABIO EAA PURE
All 9 Essential Aminos Acids (8G)
Fermented BCAAs (6G)
Full Spectrum Amino Acids (10G)
Astragin for Enhanced Absorption
Coconut Water Powder for Muscle Hydration
Non-GMO | Gluten Free | Vegetarian | Kosher
NutraBio EAA PURE is a full spectrum amino acid drink that supports the repair and rebuilding of muscle during and after intense exercise. Its all-day recovery formula is designed to be sipped throughout the day to keep you in an anabolic state. We've included all 9 essential amino acids (EAAs) that are required to maintain and build muscle along with coconut water and AstraGin to give EAA PURE superior hydration and absorption properties to help improve training endurance and deliver nutrients to the muscle.
Check out the latest products from the brands you know and trust - from vitamins and supplements to protein and weight-management powders.
All Products
Free Delivery
Free Delivery over $160
Payment
Encrypted Secure Checkout
Support
24/7 Customer Service
Return
Easy Return Policy
MY BAG
Your shopping bag is empty.
MY WISHLIST
Your wishlist is empty.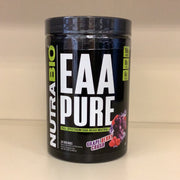 NutraBio EAA Pure - Grape Berry Crush