DESCRIPTION
DESCRIPTION
Description
A classic whey concentrate that sets the industry standard.
25g of the highest quality WPC80
23g of advanced full-spectrum amino acid profile
Supports lean muscle growth and muscle preservation
No inferior protein sources like WPC34, WPC60, WPC75, or sweet whey
No artificial colors, fillers, excipients, or proprietary blends
Check out the latest products from the brands you know and trust - from vitamins and supplements to protein and weight-management powders.
All Products
Free Delivery
Free Delivery over $160
Payment
Encrypted Secure Checkout
Support
24/7 Customer Service
Return
Easy Return Policy
MY BAG
Your shopping bag is empty.
MY WISHLIST
Your wishlist is empty.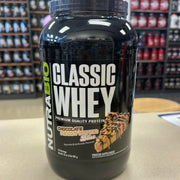 NutraBio Classic Whey Chocolate Peanut Butter Bliss 2lb