DESCRIPTION
DESCRIPTION
Description
Take 6 tablets daily. NOW Spirulina delivers the natural nutrient profile found in genuine whole foods. Spirulina is a blue-green microalgae that has naturally occurring protein, plus other nutrients such as vitamins, minerals and GLA (gamma-linolenic acid). NOW Certified Organic Spirulina Tablets are pure and contain no excipients, binders, or additives.
Check out the latest products from the brands you know and trust - from vitamins and supplements to protein and weight-management powders.
All Products
Free Delivery
Free Delivery over $160
Payment
Encrypted Secure Checkout
Support
24/7 Customer Service
Return
Easy Return Policy
MY BAG
Your shopping bag is empty.
MY WISHLIST
Your wishlist is empty.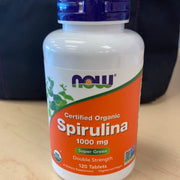 Now Foods Organic Spirulina Tablets, 100