DESCRIPTION
DESCRIPTION
Product description
Optimal Wellness
Nordic Naturals Omega-3 offers 690 mg of omega-3 per serving, surpassing the expert-recommended dose of 500 mg per day. Adequate omega-3 intake is essential to support good nutrition and overall well-being, including healthy heart and brain function, as well as mood, cognition, and immunity.*
Exceptionally Pure Fish Oil
Every batch of Nordic Naturals fish oils is tested by a third-party certified lab for environmental toxins, including heavy metals. All fish oils are in the triglyceride form and surpass the strictest international standards for purity and freshness. Certificates of Analysis available upon request.
Check out the latest products from the brands you know and trust - from vitamins and supplements to protein and weight-management powders.
All Products
Free Delivery
Free Delivery over $160
Payment
Encrypted Secure Checkout
Support
24/7 Customer Service
Return
Easy Return Policy
MY BAG
Your shopping bag is empty.
MY WISHLIST
Your wishlist is empty.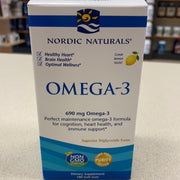 Nordic Naturals Omega-3, Lemon Flavor - 690 mg Omega-3-180 Soft Gels - Fish Oil - EPA & DHA - Immune Support, Brain & Heart Health, Optimal Wellness - Non-GMO - 90 Servings