DESCRIPTION
DESCRIPTION
Description
Think back to sittin' in your kitchen after grade school, sippin' on an ice cold glass of whole milk and snackin' on a peanut butter sammie. Bam! That's what The Vanilla Muscle Sandwich tastes like. 100% real peanut butter, graham crackers, and creamy white chocolate make The Vanilla Muscle Sandwich taste like an episode of Leave It to Beaver. The Vanilla Muscle Sandwich protein candy bar derives its 14 grams of protein from the highest quality whey protein isolate, and is a natural source of EFA's (Essential Fatty Acids). Muscle Sandwich is for everyone: kids, adults, your favorite waitress at the Waffle House, and her sister, too!
Features & details
Made with 100% real peanut butter

14g of quality protein in each bar

Natural source of efas
Check out the latest products from the brands you know and trust - from vitamins and supplements to protein and weight-management powders.
All Products
Free Delivery
Free Delivery over $160
Payment
Encrypted Secure Checkout
Support
24/7 Customer Service
Return
Easy Return Policy
MY BAG
Your shopping bag is empty.
MY WISHLIST
Your wishlist is empty.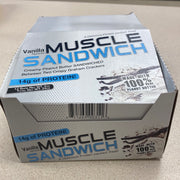 Muscle Foods Muscle Sandwich, Peanut Butter Vanilla, 12-count