DESCRIPTION
DESCRIPTION
Description
The Most Potent, The Most Vicious, The Most Intense, HARDCORE Stack EVER! Black Mamba® -The Fatal Bite on Fat!
IT'S HARDCORE! The HYPERRUSH is without a question, the most powerful hardcore energizer/weight management product on the market today. While other Diet & Energy aids require you to take 3 to 4 pills to feel even a slight effect… Black Mamba®-HYPERRUSH is so strong, with its Thermo-Rx® brand of Phenylethylamine alkaloids and Thermo-Z® brand Ephedra extract, that all you need to take is ONE and you'll be AMPED-UP to the max and in HYPERBURN mode to lose weight like you never have before! Even hardcore ephedrine fans who were consuming mega dosages of their beloved ECA stacks per day, consider the effects of this product beyond extreme!
SUPPLEMENT FACTS
Check out the latest products from the brands you know and trust - from vitamins and supplements to protein and weight-management powders.
All Products
Free Delivery
Free Delivery over $160
Payment
Encrypted Secure Checkout
Support
24/7 Customer Service
Return
Easy Return Policy
MY BAG
Your shopping bag is empty.
MY WISHLIST
Your wishlist is empty.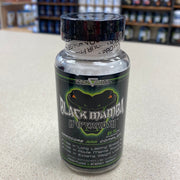 Innovative Labs Black Mamba