DESCRIPTION
DESCRIPTION
Product description
Nourish your mind with the natural nootropic Lion's Mane Mushroom Powder from Host Defense. Our mild tasting, easy-to-mix powder is crafted to give your favorite foods and drinks a boost of cognitive support. An easy way to elevate meals and snacks to help improve your memory, focus and mental clarity throughout the day. Provides cerebral and nervous system support while also helping the body's creation and release of Nerve Growth Factor. Shelf-stable and made from freeze-dried, activated mushroom mycelium. Our certified organic mushrooms are sustainably cultivated and grown in Washington State.
These statements have not been evaluated by the FDA. This product is not intended to diagnose, treat, cure or prevent any disease.
Check out the latest products from the brands you know and trust - from vitamins and supplements to protein and weight-management powders.
All Products
Free Delivery
Free Delivery over $160
Payment
Encrypted Secure Checkout
Support
24/7 Customer Service
Return
Easy Return Policy
MY BAG
Your shopping bag is empty.
MY WISHLIST
Your wishlist is empty.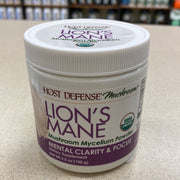 Host Defense, Lion's Mane Mushroom Powder, Supports Mental Clarity, Focus and Memory, Certified Organic Supplement