DESCRIPTION
DESCRIPTION
Description
Grizzly Red line wrist wrap provides your wrist with extra support and comfort during workouts. It has an adjustable one size fits all wrap with Velcro closures. Made of premium construction and is machine washable. This wrist wrap measures 11 inches long and 3 inches wide.
Check out the latest products from the brands you know and trust - from vitamins and supplements to protein and weight-management powders.
All Products
Free Delivery
Free Delivery over $160
Payment
Encrypted Secure Checkout
Support
24/7 Customer Service
Return
Easy Return Policy
MY BAG
Your shopping bag is empty.
MY WISHLIST
Your wishlist is empty.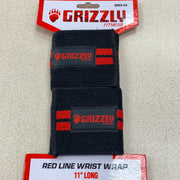 Grizzly Fitness Red Line Wrist wraps