DESCRIPTION
DESCRIPTION
Description
The Kre-Alkalyn EFX difference. It's buffered, it's stable, and it works. Kre-Alkalyn EFX represents a major breakthrough in performance supplementation thanks to its multi-patented, 'pH-Correct' creatine stabilization technology. Our scientist discovered that "buffering" to pH-12 produced a stable creatine molecule. Kre-Alkalyn EFX is the only creatine monohydrate product with a pH of 12 because its molecules are synthesized with 'buffering' agents using a patented manufacturing process.
Check out the latest products from the brands you know and trust - from vitamins and supplements to protein and weight-management powders.
All Products
Free Delivery
Free Delivery over $160
Payment
Encrypted Secure Checkout
Support
24/7 Customer Service
Return
Easy Return Policy
MY BAG
Your shopping bag is empty.
MY WISHLIST
Your wishlist is empty.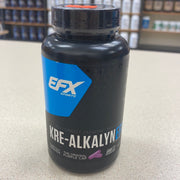 EFX Sports Krealklyn 120 Capsules