DESCRIPTION
DESCRIPTION
Country Life Core Daily™ 1 for Women Description
Supports Energy Metabolism

Whole Food Based Multi

Probiotics and Enzymes

Coenzyme B-Vitamins

Whole Fruit Cranberry and ActivAloe® Aloe Vera (100% inner fillet)
Introducing Core Daily™-1 for Women. Every woman needs daily support, and Core Daily™-1 for Women supports the basic nutritional needs that women require, and provides B vitamins that support energy metabolism.
Other ingredients targeted specifically to Women include:
Whole Fruit Cranberry

Organic Aloe Vera (100% Inner Fillet ActivAloe®)
Core Daily™-1 for Women includes enzymes for digestive support and also includes:
Core Daily™-1 for Women is built upon a base of whole, raw, fermented fruits, vegetables, seeds, legumes, and sprouts. These whole foods offer added nutrition to support a healthier you.
Check out the latest products from the brands you know and trust - from vitamins and supplements to protein and weight-management powders.
All Products
Free Delivery
Free Delivery over $160
Payment
Encrypted Secure Checkout
Support
24/7 Customer Service
Return
Easy Return Policy
MY BAG
Your shopping bag is empty.
MY WISHLIST
Your wishlist is empty.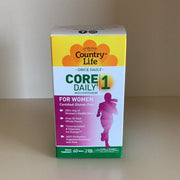 Country Life Core Daily 1 for Women