DESCRIPTION
DESCRIPTION
Backed by 20 years of sports nutrition expertise, we've raised the bar with an innovative selection of supplements. Since every fitness journey is unique, we continue to develop and deliver products that support our customers at every experience level.
Formulated to fuel your ultimate, C4 Ultimate contains ingredient dosages for unmatched energy, powerful performance, muscular endurance, and extreme focus.
300 mg of caffeine delivers explosive energy that's ideal for advanced pre-workout users

Formulated to support energy, pumps, and endurance

Includes 3.2g of the clinically researched CarnoSyn Beta-Alanine, studied to help increase endurance, performance, and fight fatigue.

6g super pump matrix featuring L-Citrulline, Citrulline-Malate, and NitraMax (NO3-C) Citrulline Nitrate

Dual Creatine matrix of Creatine HCl and NO3-T Creatine Nitrate

Neuro Focus support from AlphaSize Alpha-GPC, N-Acetyl-L-Tyrosine, and Huperzine-A

Incredible sugar-free flavors with zero calories
Check out the latest products from the brands you know and trust - from vitamins and supplements to protein and weight-management powders.
All Products
Free Delivery
Free Delivery over $160
Payment
Encrypted Secure Checkout
Support
24/7 Customer Service
Return
Easy Return Policy
MY BAG
Your shopping bag is empty.
MY WISHLIST
Your wishlist is empty.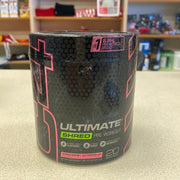 C4 Ultimate Shred Pre Workout Powder Watermelon - Sugar Free Preworkout Energy Supplement for Men & Women - 300mg Caffeine + 3.2g Beta Alanine + 2 Patented Creatines - 20 Servings