DESCRIPTION
DESCRIPTION
Description
Bucked Up PUMP-OCALYPSE
 Pump-Ocalpyse is the Ultimate Pump From Bucked up! This comes with an intense pump and will make your muscles feel completely full. Goodluck lifting that water bottle after!
Check out the latest products from the brands you know and trust - from vitamins and supplements to protein and weight-management powders.
All Products
Free Delivery
Free Delivery over $160
Payment
Encrypted Secure Checkout
Support
24/7 Customer Service
Return
Easy Return Policy
MY BAG
Your shopping bag is empty.
MY WISHLIST
Your wishlist is empty.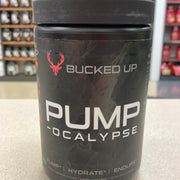 Bucked UP Pump OCALYPSE Pre Workout