DESCRIPTION
DESCRIPTION
BUCKED UP

 

PUMP-ocalypse
PUMP-ocalypse is not for those who would abuse its power. PUMP-ocalypseis for those who train in preparation for doomsday. It's for those brave enough to flex before a mirror -- not for mere vanity, but to assess their work of art.
It's also for anyone who seeks more than to simply look good -- not that there's anything wrong with that, wear those gainz with pride. We added Peak O2, a trademarked adaptogen clinically shown to increase strength over time. That way, no one can ever accuse you of being "all show," and if they do....joke's on them. Flex on your haters and when that's not enough, out lift them too.
WARNING: Potential Side Effects May Include:
Painful pumps
Vascularity: never before seen veins become visible
Crippling quadriceps pump -- bring a wheelchair
Compression pants may be forever altered from glute gains
Torn shirt sleeves are not unheard of -- wear a tank top
Becoming too strong for your own good (kidding, there's no such thing)
Check out the latest products from the brands you know and trust - from vitamins and supplements to protein and weight-management powders.
All Products
Free Delivery
Free Delivery over $160
Payment
Encrypted Secure Checkout
Support
24/7 Customer Service
Return
Easy Return Policy
MY BAG
Your shopping bag is empty.
MY WISHLIST
Your wishlist is empty.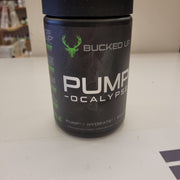 Bucked Up Pump-Ocalypse Green Apple