DESCRIPTION
DESCRIPTION
Description
TRUE-MASS 1200 is the Ultimate Mass Gainer engineered for the true hard-gainer in need of serious caloric support. TRUE-MASS 1200 features a 4:1 ratio of protein to carbohydrates, with 50g of BSN's signature protein formula along with 215g of a unique complex carbohydrate blend that includes ground whole oats. Plus, the formula includes 12 grams of naturally occurring BCAAs and 25 grams of EAAs per serving along with added dietary fiber and Medium Chain Triglycerides to round out the nutritional value of each shake. Used post-workout, between meals and/or before bed, TRUE-MASS 1200 can fuel your recovery from heavy training while providing the nutrients your body needs to keep on building.
Features & details
Ultra-premium super mass gainer

Over 1200 calories per serving

50 grams of multi-source protein per serving

215 grams of carbohydrates per serving, primarily rolled oats. BCAAs and other essential and non-essential amino acids

Recommended Use- Mix 3 scoops with 16 oz. of cold water or any beverage of your choice. Vary the amount of liquid to achieve your desired consistency. Drink 1 serving daily, or as needed to satisfy your protein or mass-gaining requirements. To increase your protein and calorie intake per serving and to achieve an amazing milkshake taste, use milk

During the summer months products may arrive warm but Amazon stores and ships products in accordance with manufacturers' recommendations, when provided.
Check out the latest products from the brands you know and trust - from vitamins and supplements to protein and weight-management powders.
All Products
Free Delivery
Free Delivery over $160
Payment
Encrypted Secure Checkout
Support
24/7 Customer Service
Return
Easy Return Policy
MY BAG
Your shopping bag is empty.
MY WISHLIST
Your wishlist is empty.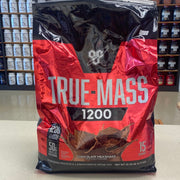 BSN TRUE-MASS Weight Gainer, Muscle Mass Gainer Protein Powder, Chocolate Milkshake, 10.38 Pound