DESCRIPTION
DESCRIPTION
Description
BSN Syntha-6 Ultra-Premium Lean Muscle Protein Powder BSN Syntha-6 Protein Powder Bsn Syntha-6 Protein Vanilla Ice Cream - 2.91 Lb Description Nutrition Lean Muscle Recovery Ultra Premium Protein Matrix. An Ultra Premium Lean Muscle Protein Powder 22 Grams Protein per Scoop Use Anytime, Day or Night 10 Grams Essential Amino Acids (EAAs) Per Scoop (naturally occurring EAAs) Naturally & Artificially Flavored Made in USA (contains products of international and domestic origin) Ultra-Premium Protein. Ultra Premium Protein Taste. Syntha-6 Product Highlights: Multi-Functional Ultra-Premium Protein Matrix Naturally Occurring BCAAs and other Essential and Non-Essential Amino Acids MCTs, EFAs, and Glutamine Peptides Excellent Source of Fiber. Contains 6g of Fat per serving Zero Milligrams of Aspartame Designed For: Any individual who wants an ultra-premium protein powder to help them reach their nutrition and physique goals. Directions Take 1 scoop with 4-5 fl. oz. of cold water or any beverage of your choice. To increase your protein intake per serving and achieve an even more amazing milkshake experience, use non-fat or low-fat milk. Suggested Use: For healthy adults, consume enough protein to meet your daily protein requirement with a combination of high protein foods and protein supplements throughout the day as part of a balanced diet and exercise program.
Check out the latest products from the brands you know and trust - from vitamins and supplements to protein and weight-management powders.
All Products
Free Delivery
Free Delivery over $160
Payment
Encrypted Secure Checkout
Support
24/7 Customer Service
Return
Easy Return Policy
MY BAG
Your shopping bag is empty.
MY WISHLIST
Your wishlist is empty.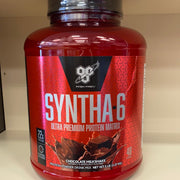 BSN Syntha-6 5lb Chocolate Milkshake