DESCRIPTION
DESCRIPTION
Description
Bluebonnet's Vegetarian Glucosamine MSM (Shellfish-Free) Capsules contain a complementary, truly vegetarian blend of glucosamine hydrochloride Regenasure®, derived from corn and patented OptiMSM®. This formula provides a unique fermentation-derived glucosamine produced from a vegetable source (corn). Available in easy-to-swallow vegetable capsules for maximum assimilation and absorption.
Check out the latest products from the brands you know and trust - from vitamins and supplements to protein and weight-management powders.
All Products
Free Delivery
Free Delivery over $160
Payment
Encrypted Secure Checkout
Support
24/7 Customer Service
Return
Easy Return Policy
MY BAG
Your shopping bag is empty.
MY WISHLIST
Your wishlist is empty.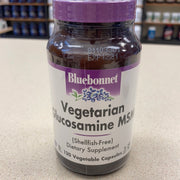 BlueBonnet Vegetarian Glucosamine Plus MSM Supplement, 120 Count ('743715011151)