DESCRIPTION
DESCRIPTION
Description
Providing Essential Vitamins and Minerals Recommended for Pregnant and Nursing Women
Albion Minerals
Dietary Supplement
Kosher Parve
Gluten Free
Since expecting mom's often suffer from morning sickness and GI distress, Bluebonnet is proud to announce the arrival of Early Promise Prenatal Gentle Multiple Caplets, a truly gentle formula that provides responsible levels of micronutrients (vitamins, mineral and specialty nutrients) based on what the scientific community has agreed as optimum for pregnant and nursing women. This gentle, scientific formula provides at least 100% of all the essential vitamins for pregnant/lactating women from sources known to be gentle on mom's sensitive GI as well as providing nearly 100% of all the essential macro- and microminerals. Although calcium and magnesium are provided in this formula under the recommended daily value (30% and 44% of the DV for pregnant/lactating women, respectively), they are provided in a 2:1 ratio and at potency levels that cover the dietary gaps in the typical American diet. Available in easy-to-swallow caplets for maximum assimilation and absorption.
Check out the latest products from the brands you know and trust - from vitamins and supplements to protein and weight-management powders.
All Products
Free Delivery
Free Delivery over $160
Payment
Encrypted Secure Checkout
Support
24/7 Customer Service
Return
Easy Return Policy
MY BAG
Your shopping bag is empty.
MY WISHLIST
Your wishlist is empty.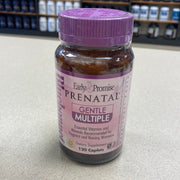 Bluebonnet Prenatal Gentle Multiple 120 Caplets