DESCRIPTION
DESCRIPTION
Description
Bluebonnet's Vitamin C-1000 mg Capsules contain non-GMO, identity preserved (IP) vitamin C from L-ascorbic acid to help support immune function. Tested for quality and purity in our own state-of- the-art laboratory. Available in easy-to- swallow vegetable capsules for maximum assimilation and absorption.
Check out the latest products from the brands you know and trust - from vitamins and supplements to protein and weight-management powders.
All Products
Free Delivery
Free Delivery over $160
Payment
Encrypted Secure Checkout
Support
24/7 Customer Service
Return
Easy Return Policy
MY BAG
Your shopping bag is empty.
MY WISHLIST
Your wishlist is empty.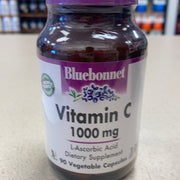 Bluebonnet Nutrition Vitamin C 1000 mg Vegetable Capsules, Ascorbic Acid, For Immune Health & Skin Health, Vegan, Vegetarian, Non GMO, Gluten Free, Soy Free, Milk Free, Kosher, 90 Vegetable Capsules