DESCRIPTION
DESCRIPTION
Description
Bluebonnet's Albion Chelated Multi Minerals (Iron-Free) Caplets are a high potency; fully reacted amino acid chelate multimineral supplement formulated with advanced chelating agents, including: malates, citrates and glycinates. Available in easy-to-swallow caplets for maximum assimilation and absorption.
Check out the latest products from the brands you know and trust - from vitamins and supplements to protein and weight-management powders.
All Products
Free Delivery
Free Delivery over $160
Payment
Encrypted Secure Checkout
Support
24/7 Customer Service
Return
Easy Return Policy
MY BAG
Your shopping bag is empty.
MY WISHLIST
Your wishlist is empty.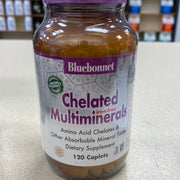 Bluebonnet Nutrition High Potency Chelated Multiminerals (Iron-Free), Albion Chelated Minerals, Soy-Free, Gluten-Free, Non-GMO, Kosher Certified, Dairy-Free, 120 Caplets, 40 Servings