DESCRIPTION
DESCRIPTION
Description
Made with Non GMO Ingredients
CellularActive
Coenzyme Form of Vitamin B12
Vegan
Kosher Parve
Gluten Free
Dietary Supplement
Bluebonnet's EarthSweet Chewables CellularActive Methylcobalamin 5000 mcg Tablets contain the active, coenzyme form of vitamin B-12 that supports cellular energy production and nervous system health in a delicious raspberry flavor. Sweetened with EarthSweet, a proprietary sweetening mix of juice concentrates (wild blueberry, cranberry, prune, cherry, strawberry, grape, raspberry and bilberry fruits, grape seed and raspberry seed extracts) and cane crystals. Available in chewable tablets for maximum assimilation and absorption.
Check out the latest products from the brands you know and trust - from vitamins and supplements to protein and weight-management powders.
All Products
Free Delivery
Free Delivery over $160
Payment
Encrypted Secure Checkout
Support
24/7 Customer Service
Return
Easy Return Policy
MY BAG
Your shopping bag is empty.
MY WISHLIST
Your wishlist is empty.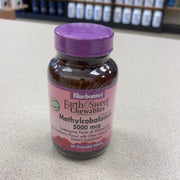 Bluebonnet Nutrition EarthSweet Chewables, CellularActive Methylcobalamin, Raspberry Flavor, 5,000 mcg, 60 Chewable Tablets