DESCRIPTION
DESCRIPTION
Description
Bluebonnet's Standardized Ginkgo Biloba Leaf Extract Capsules contain Ginkgoselect from Indena, a standardized extract of ginkgo flavonglycosides and terpene lactones, the most researched active constituents found in ginkgo biloba which may help support brain health and focus. A clean and gentle water-based extraction method is employed to capture and preserve ginkgo biloba's most valuable components. Available in easy-to-swallow vegetable derived capsules for maximum assimilation/absorption and for a truly vegetarian/vegan formula. ?
Check out the latest products from the brands you know and trust - from vitamins and supplements to protein and weight-management powders.
All Products
Free Delivery
Free Delivery over $160
Payment
Encrypted Secure Checkout
Support
24/7 Customer Service
Return
Easy Return Policy
MY BAG
Your shopping bag is empty.
MY WISHLIST
Your wishlist is empty.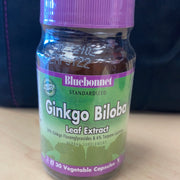 BlueBonnet Ginkgo Biloba Leaf Extract Supplement, 30 Count