DESCRIPTION
DESCRIPTION
Bluebonnet's Cinnulin PF Cinnamon Bark Extract Capsules contain a water-soluble extract that is carefully produced by a clean and gentle water-based extraction method is employed to capture and preserve cinnamon's most valuable components while eliminating toxic compounds typically found in whole cinnamon and fat-soluble cinnamon extracts. Available in easy-to-swallow vegetable derived capsules for maximum assimilation/absorption and for a truly vegetarian/vegan formula.
Features & details
Formulated with 300 mg Sustainably Harvested Cinnulin PF Cinnamon Bark (20:1 aqueous extract)

To Help Maintain Healthy Blood Sugar Levels that are Already Within the Normal Range ♦

60 Vegetable Capsules, 30 Servings

Gluten-Free, Soy-Free, Kosher Certified, Non-GMO, Vegan, Sustainably Harvested

Free of milk, egg, fish, crustacean shellfish, tree nuts, peanuts, wheat and soybeans. Also free of corn, yeast, gluten, barley, rice, sodium and sugar.
Check out the latest products from the brands you know and trust - from vitamins and supplements to protein and weight-management powders.
All Products
Free Delivery
Free Delivery over $160
Payment
Encrypted Secure Checkout
Support
24/7 Customer Service
Return
Easy Return Policy
MY BAG
Your shopping bag is empty.
MY WISHLIST
Your wishlist is empty.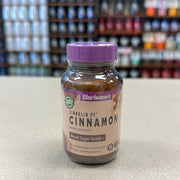 Bluebonnet Cinnulin PF Cinnamon Bark Extract - 60 Caps