DESCRIPTION
DESCRIPTION
From the manufacturer
Strengthen Hair & Nails
Biotin produces amino acids that are converted to keratin, which helps strengthen hair and nails.*
Single Daily
One capsule daily to strengthen hair & nails. When it's this easy, you will never want to miss your daily dose of beauty vitamins!*
Effective Potencies
Each serving offers 5,000 mcg of the beauty nutrient biotin to support hair growth as well strong, healthy nails.*
Non-GMO
The Non-GMO seal guarantees the dietary and other ingredients in this formula are derived from sources that have not been genetically modified using modern biotechnology.
Bluebonnet's Biotin 5000 mcg
Bluebonnet's Biotin 5000 mcg Capsules contain yeast-free biotin in its crystalline form to support healthy hair and strong, durable nails. *
Check out the latest products from the brands you know and trust - from vitamins and supplements to protein and weight-management powders.
All Products
Free Delivery
Free Delivery over $160
Payment
Encrypted Secure Checkout
Support
24/7 Customer Service
Return
Easy Return Policy
MY BAG
Your shopping bag is empty.
MY WISHLIST
Your wishlist is empty.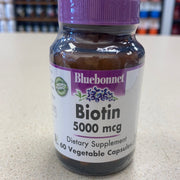 Bluebonnet Biotin 5000mcg 60 Vegetable Capsules