DESCRIPTION
DESCRIPTION
Features & details
WHITE CHOCOLATE FRUITY CEREAL CRUNCH:This bar tastes like a bowl of Fruity Cereal without all the extra carbs! Real Fruity Cereal Pieces in every bite & a smooth White Chocolate Coating makes this bar one of our fan favorites!

KID-APPROVED TASTE & TEXTURE: When your Protein Bar tastes like a Candy Bar then every "Snack" feels like Dessert! Traditional Protein Bars may "look" the part, but lack in the flavor department. Toss an Anabar in a lunch box or bookbag & you can be confident your student is getting in 21g of Protein while savoring every single bite!

100% AUTHENTIC CHOCOLATE COATED: We believe in REAL INGREDIENTS at Anabar & when it comes to our Chocolate Coating we make no exceptions. Other brands will use a "chocolate hybrid" where they attempt to combine Chocolate & Protein to create a Frankenstein abomination that tastes nothing like Chocolate & everything like Disappointment. At Anabar we do no such thing, every piece of Chocolate is 100% Melt In Your Mouth Authentic!

21 GRAMS PROTEIN IN EVERY BAR: Anabar contains as much Protein as 4 Ounces of Chicken Breast & as much delicious flavor as your favorite candy Bar! Getting enough Protein to support Muscle Growth has never been this delicious or convenient!

EASY ON THE STOMACH: We don't sweeten Anabars with Sugar Alcohols or Strange Fibers. Instead, we take a more natural approach & use Real Honey to create the sweet taste that everyone loves! This way you get even more FLAVOR & spend less time with a stomach ache or indigestion!

THE PERFECT SNACK OR MEAL REPLACEMENT: Whether you have a busy day & don't have time to order food OR you're looking for a quick High Protein Snack that you can stuff in your bag, Anabar is here to help! Each bar is coated in Chocolate & filled with your favorite guilty pleasure foods! Snack Time has never tasted this good!
Check out the latest products from the brands you know and trust - from vitamins and supplements to protein and weight-management powders.
All Products
Free Delivery
Free Delivery over $160
Payment
Encrypted Secure Checkout
Support
24/7 Customer Service
Return
Easy Return Policy
MY BAG
Your shopping bag is empty.
MY WISHLIST
Your wishlist is empty.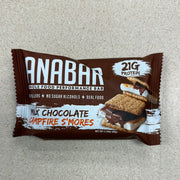 Anabar Milk Chocolate Milk