DESCRIPTION
DESCRIPTION
Alpha CUTS is your answer to an extreme metabolic amplifier. When performing any kind of cardio or exercise, you'll want to maximize the time you have and burn the most calories. Alpha Cuts was formulated to do just that. With ingredients like Synephrine HCL, Paradoxine, PROGBB, and L Carnitine, you'll boost thermogenesis and increase fat-burning capabilities like never before.
Check out the latest products from the brands you know and trust - from vitamins and supplements to protein and weight-management powders.
All Products
Free Delivery
Free Delivery over $160
Payment
Encrypted Secure Checkout
Support
24/7 Customer Service
Return
Easy Return Policy
MY BAG
Your shopping bag is empty.
MY WISHLIST
Your wishlist is empty.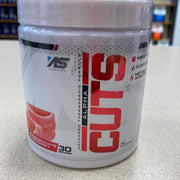 Alpha Supps Alpha Cuts Thermogenic Formula Pomegranate Raspberry 30 Servings