DESCRIPTION
DESCRIPTION
4G L-CITRULLINE
Citrulline is a proven nitric oxide (NO) pump ingredient, delivering sleeve-stretching muscle pump. Citrulline plays a role in ATP production and also buffers the buildup of ammonia in muscles.
Citrulline allows more energy to be available for longer periods of time
2.5G BETA-ALANINE
This well-known ingredient works indirectly to buffer acid and reduce fatigue by increasing levels of carnosine in the working muscles thereby allowing you to push your reps and sets deep into the growth zone.
Increases intramuscular carnosine for less fatigue, longer endurance
400MG CAFFEINE
From 8 different sources: Caffeine Anhydrous, Dicaffeine Malate, Theobromine, Green Tea, Yerba Mate Extract, Guarana Extract, Green Coffee Bean Extract, and Gotu Kola Extract.
Featuring alkaloid, Cocoabuterol

Smooth energy curve

No jitters. No crash.
Insane Pumps & Vascularity
Reference statements below
Intense Mental Focus & Mood Enhancement
Reference statements below
Dramatically Increases Energy Levels
Reference statements below
Check out the latest products from the brands you know and trust - from vitamins and supplements to protein and weight-management powders.
All Products
Free Delivery
Free Delivery over $160
Payment
Encrypted Secure Checkout
Support
24/7 Customer Service
Return
Easy Return Policy
MY BAG
Your shopping bag is empty.
MY WISHLIST
Your wishlist is empty.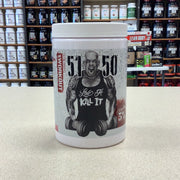 51/50 rich Piana 5% Nutrition pink lemonade