DESCRIPTION
DESCRIPTION
DESCRIPTION
When it comes to building muscle, nothing beats testosterone. It's no wonder it's considered the King of the natural hormones produced by your body. As any 5%er most likely knows, testosterone has a range of functions in the body. These include key roles in stimulating muscle growth, enhancing sex drive, and improving stamina.
Yet there's a problem. As we start getting older, our natural levels get progressively lower. In this case, beginning to get older means your mid-twenties.
The answer is 5% Nutrition Core D-Aspartic Acid!
One serving of 5% Core D-Aspartic Acid provides 3,120mg per serving. This potent ingredient is one of the most effective natural test boosters available.
Did you think we stopped there? You know us better than that. We also added 200 mg of DIM. What's better than increasing testosterone and controlling estrogen?
The great thing about Core D-Aspartic Acid is you can stack it with our other test boosting formulas, namely Core ZMA. Combining these two gives you a powerful testosterone-boosting stack. Based on your goals, you can build your stack from there.
Check out the latest products from the brands you know and trust - from vitamins and supplements to protein and weight-management powders.
All Products
Free Delivery
Free Delivery over $160
Payment
Encrypted Secure Checkout
Support
24/7 Customer Service
Return
Easy Return Policy
MY BAG
Your shopping bag is empty.
MY WISHLIST
Your wishlist is empty.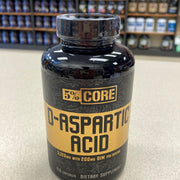 5% Nutrition D-Aspartic Acid