DESCRIPTION
DESCRIPTION
Product description
MRM Super Foods - Raw Matcha Green Tea Powder
In Japan, Matcha green tea is the centrepiece of the iconic tea ceremony, which defines the Japanese culture. Matcha green tea is whole green tea powder so it's the complete plant dried and rendered to a powder.That means that unlike a tea infusion it contains everything from the tea plant including all the antioxidants, vitamins, minerals, amino acids and fibre.Of course it also contains the natural caffeine present in tea and which makes tea the world's most popular beverage.
Check out the latest products from the brands you know and trust - from vitamins and supplements to protein and weight-management powders.
All Products
Free Delivery
Free Delivery over $160
Payment
Encrypted Secure Checkout
Support
24/7 Customer Service
Return
Easy Return Policy
MY BAG
Your shopping bag is empty.
MY WISHLIST
Your wishlist is empty.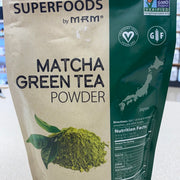 Super Foods - Raw Matcha Green Tea Powder